Bookshops can engage readers more deeply and boost sales of print books by 10% to 20% with cloud-based book samples. If readers are unable to visit the bookshop in person and browse the stacks, then bring the bookshop to readers so they can browse online from their armchairs!
The Jellybooks DISCOVERY platform provides online book samples to bookshops and retailers for remote book browsing by readers. Samples can be inserted in email newsletters, social media posts, and online shop pages and re-shared by readers to turbocharge those all-important word-of-mouth book recommendations by readers.
The book samples we provide to bookshops are digital, online, and cloud-based, meaning they are not tied to any specific device or platform.
The DISCOVERY service is free to use for bookshops and booksellers!
Read on to learn about:
Boosting Book Sales with Online Samples
Consumer surveys by Nielsen, Booknet Canada, and other research organisations have consistently shown that samples are a critical factor in how users discover books and how readers make decisions on what books to buy.
This is the reason why all the major online book-selling giants including Amazon, Apple, Kobo, and Google use online book samples in their online bookshops.
Leveraging the free Jellybooks DISCOVERY platform, independent bookshops can level up with the online retail giants by integrating online book samples as well. Bookshops adopting the Jellybooks DISCOVERY service have experienced a sales increase of ten to twenty percent for titles supported by online books samples.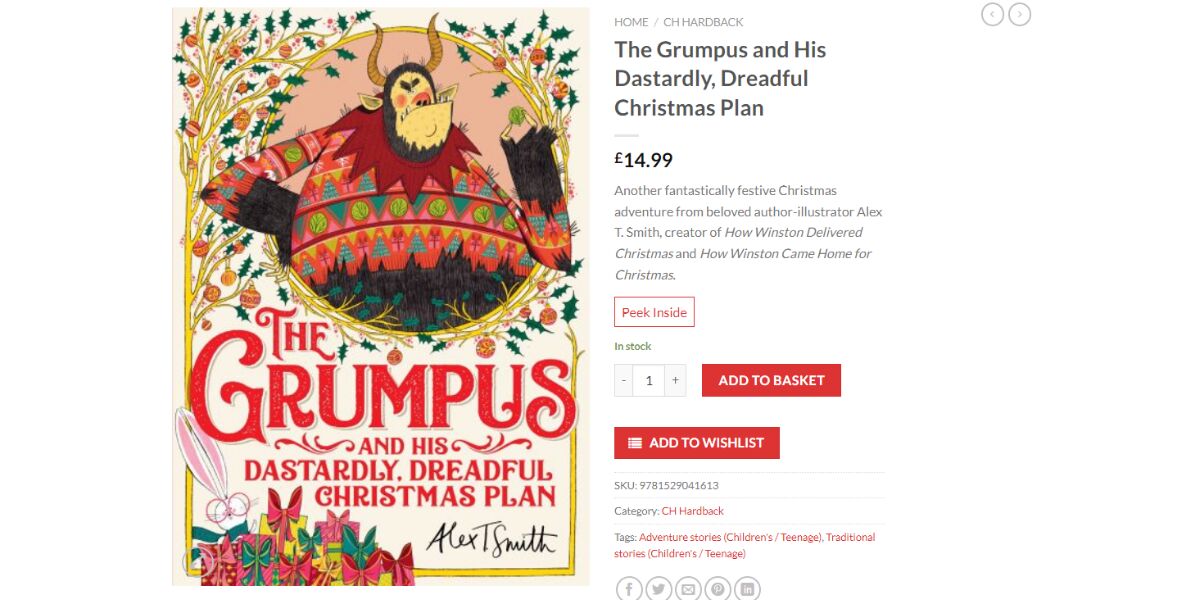 Using Digital Book Samples in Email Newsletter
Email newsletters are one of the most powerful tools for bookshops to connect with readers. Bookshops can make newsletter engagement even more impactful in terms of increasing email open and click rates by including free digital book excerpts and samples in their newsletters.
Samples allow readers to "try before they buy" improving book sales and sign-up numbers for author events. Simply put, samples are a great way for whetting a reader's appetite for a book and stimulate their interest in buying the book either online or by visiting the bookshop.
In short, email newsletters with samples are more engaging and lead to more book sales than emails without samples.
Samples are easy to include:
as plain text links
as "read sample", "peek inside", or "view excerpt" buttons
as linked images with a sample opening when the reader clicks on the cover image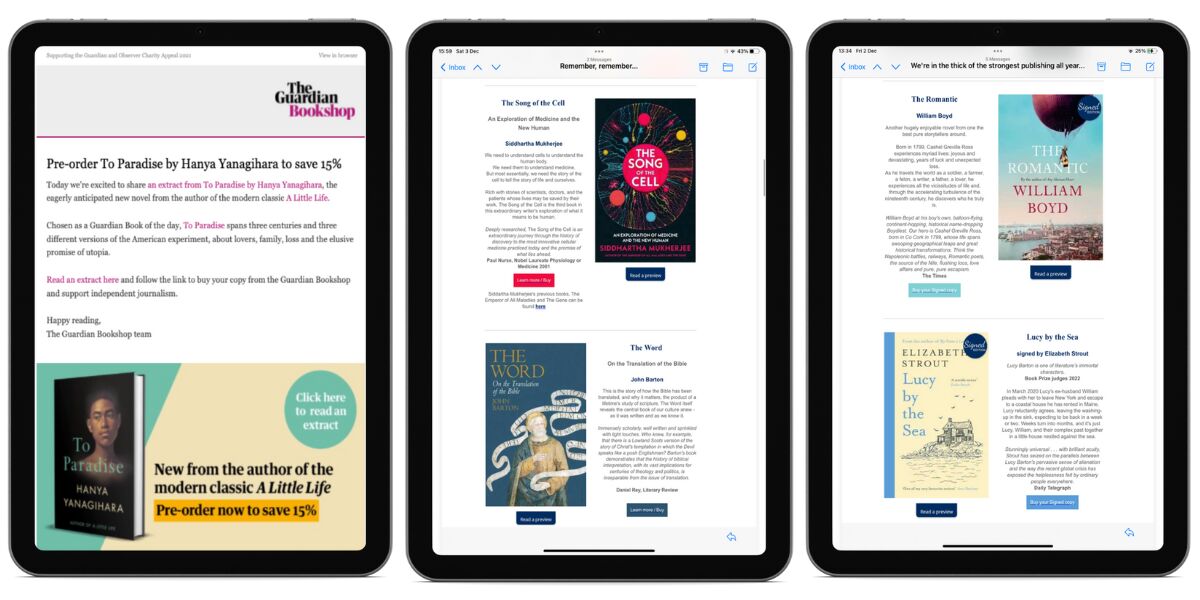 For a step-by-step guide, examples, case studies and a deep dive into using book samples for email newsletters visit our dedicated DISCOVERY newsletter page or to get started right away visit our online Express Sample Page to retrieve the online sample links you wish to include in your newsletter.
Using Cloud-based Book Samples and Smart Links on Social Media Posts
Bookshops can turn Twitter, Facebook or Mastodon posts into lead generators by including sample links either in the main post or as part of a thread.
Online samples that users can read inside Twitter or Facebook are a great way of getting readers who are still sitting on the fence interested in buying the featured book. Free samples reduce the risk for readers of buying a book that they are unfamiliar with ("try before you buy"). This is especially true for pre-orders, debut novels and non-fiction books.
Posts with sample links instead of buy links tend to be re-shared more often.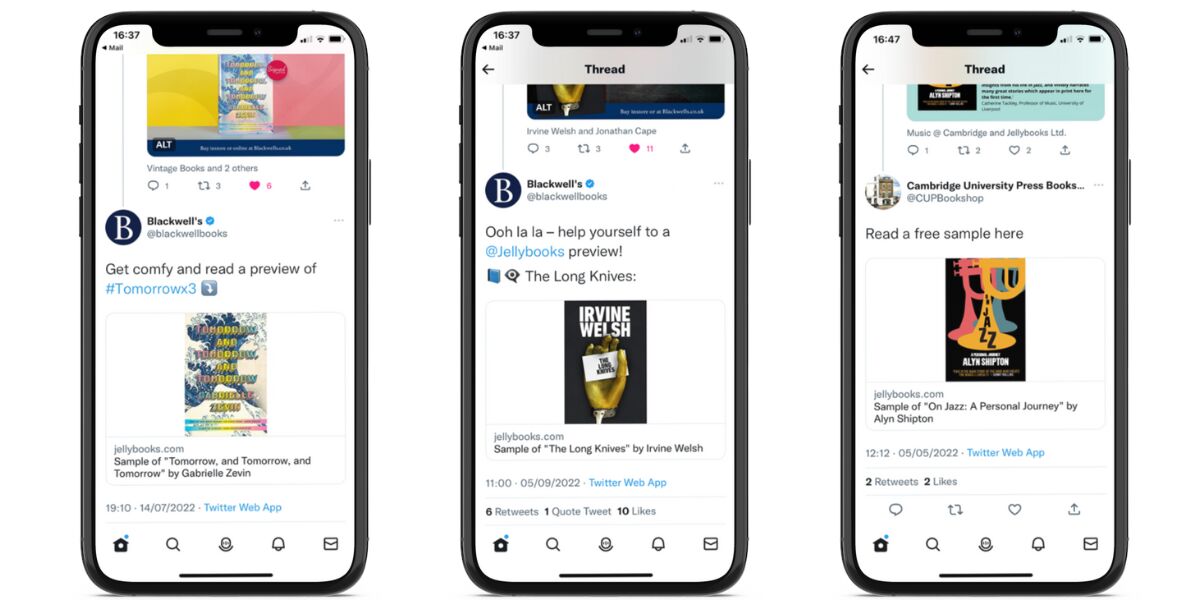 Samples are easy to integrate. They are constructed as standard web links (URLs) that bookshops can insert in Twitter or Facebook posts or into the profile section of Instagram and TikTok. There are also opportunities with regards to other social media networks.
Samples can be accessed through our bookshop portal — no registration required.
For a step-by-step guide, case studies, and a deep dive into using book samples for Twitter and other social media networks, visit our dedicated DISCOVERY for social media page, or to get started right away visit our Jellybooks online bookshop portal to retrieve the online sample links you wish to include in your social media posts.
There is also the option to create personalised book samples with bookshop information and buy links by registering and logging-in to the bookshop-specific version of our bookshop portal. For details and a step-by-step guide regarding using customised book samples, including SMART sample links with bespoke clickable images for social media, visit our dedicated DISCOVERY personalising samples page.
Using Online Book Samples for Book Product Pages and Online Bookshops
Online bookshops can compete more effectively with the online ecommerce giants by including digital sample links on their product pages. Cloud-hosted samples are a proven way of converting browsers to buyers and are used by Amazon and all other major online booksellers.
Readers can read samples without leaving the bookshop website if the 'modal mode' provided by the Jellybooks DISCOVERY platform is enabled by the bookshop.
The Jellybooks DISCOVERY platform offers several ways for importing online samples in bulk to an online bookshop website:
As lists in CSV or XML format via the Jellybooks Bookshop Portal
Via the software plug-ins provided by Batch Services or 1Jump2 plug-ins for Wordpress, Woocommerce and soon Shopify, too
Using a website developer such as Bookswarm or Supadu to upgrade an existing bookshop website
Or by using the Jellybooks API.
For a step-by-step guide, available options, case studies and a deep dive into using book samples for book product pages visit our dedicated DISCOVERY ecommerce pages.
To conduct a simple experiment with a specific title, bookshops can visit our online EXPRESS Sample Page, retrieve an online sample link, and try it out on a product page, blog or similar.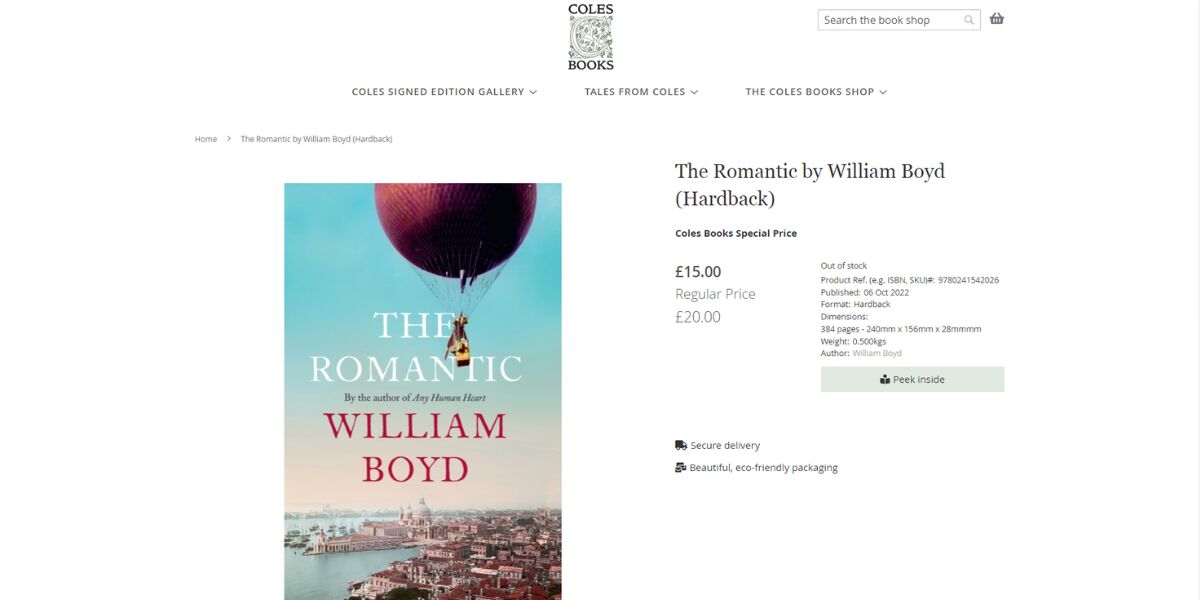 Using Personalised Book Samples
The samples, excerpts and snippets provided through the Jellybooks DISCOVERY platform can be customised in several ways:
Bookshops can customise the buy page with details of the bookshop such as an image, drawing or logo of their bookshop, the bookshop address and bookshop opening times
Bookshops can include a "reserve this book" button using an online form served by Jellybooks with the details provided by the readers sent via email to the bookshop
Bookshops can include a buy button to their online bookshelf on bookshop.org, hive.co.uk or similar, if desired
Bookshops can include a buy button to their own online or ecommerce shop
Bookshops can use multiple buy buttons to link to separate editions such as signed copies, hardback, paperback etc.
Bookshops can use pre-order links, if relevant
Bookshops can define the colour of the buy buttons displayed on the buy page and in the navigation menu to reflect their brand or logo
Bookshops can include sign-up links for events or other online pages, as desired
Bookshops own the relationship!
Sample links are unique to each bookshop.
It is the bookshop that defines which options are displayed for readers in an online sample.
There is no affiliate relationship between Jellybooks and retailers. We remain strictly neutral. Full details can be found on our customised samples for bookshops page.
Bookseller Testimonials
Additional Resources
Additional information for bookshops: