Jellybooks launches Free Easter Reading campaign in partnership with publishers and high street bookshops
Up to 40 ebooks available to read in full free of charge from 30 March to 6 April.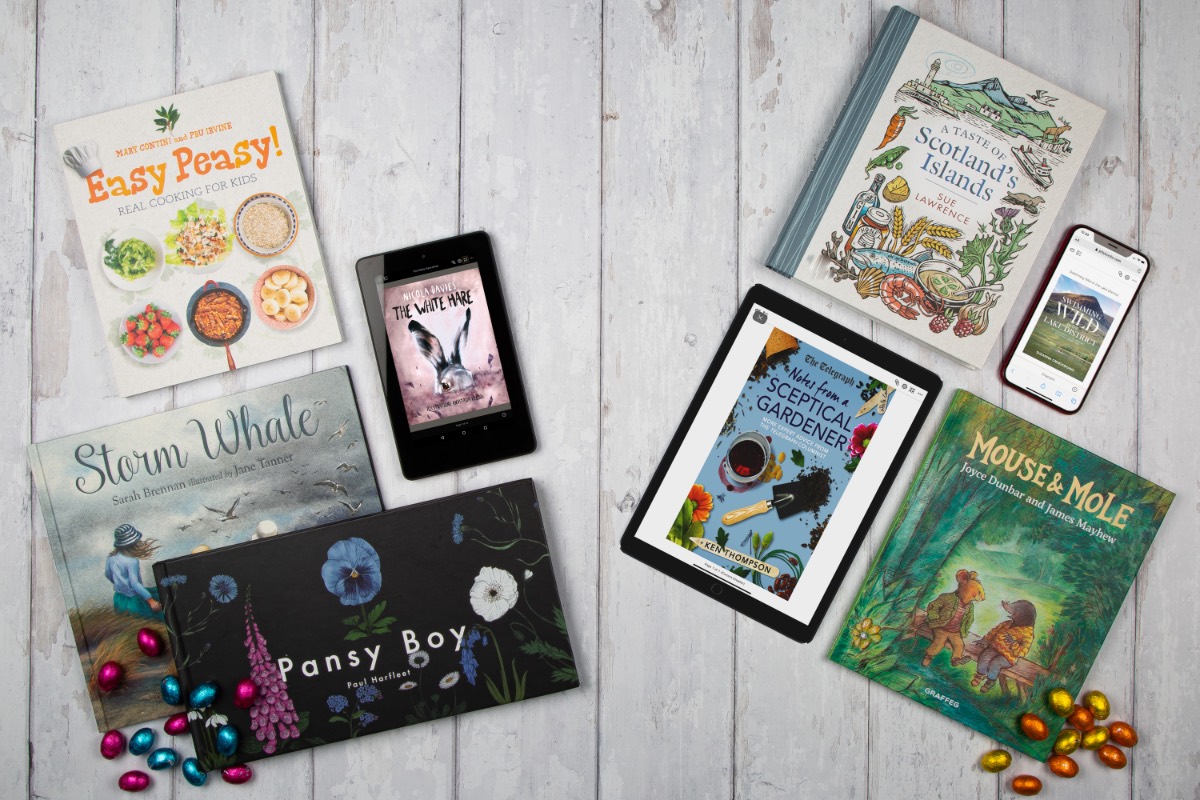 (29 March 2021) In partnership with publishers and high street bookshops, technology specialist Jellybooks is launching a Free Easter Reading campaign for children and adults. Forty ebooks will be available to read in full free of charge from 9am on Tuesday 30th March until 9am on Tuesday 6th April.
The majority of the titles are illustrated books, including children's book, cookbooks, natural history books and travel books, but there are also narrative books available. The titles are divided into three categories:
'Discover our Planet' for little readers,
'Discover the Natural World' for young adult and adult readers
'Discover the United Kingdom and Ireland' for adult readers
Jellybooks is partnering with the following publishers for this campaign: Barbican Press, Birlinn, Cambridge University Press, Grafegg, Hope Road, Icon Books, Impress Books, Macmillan Children's Books, Old Barn Books, Pan Macmillan, Quarto and Vertebrate Publishing.
All the books are available to read online thanks to the unique cloud platform for book excerpts and audiobook snippets powered by Jellybooks DISCOVERY. The platform allows readers to enjoy books on any connected device with a web browser from basic Android tablets and smartphones to the latest Apple products, as well as laptops, PCs, smart TVs and more.
DISCOVERY enables readers to 'peek inside' thousands of books on the websites of independent bookshops similar to how readers can 'look inside' on Amazon. The key difference with DISCOVERY is that readers can then purchase the book they have previewed directly from a high street bookshop and every penny will go to that retailer. For this special Easter campaign, the featured books will be available to read in full for a week, before reverting to a regular sample featuring the first ten percent of each book.
Blackwell's, Book-ish, Forum Books, Golden Hare Books and Mr. B's Emporium of Reading Delights and are all actively supporting this event. Links to purchase each book for online delivery or click and collect from these bookshops are listed in the navigation menu at the end of each ebook.
Andrew Rhomberg, CEO of Jellybooks, says: "As we won't be able to enjoy the Easter break we had hoped for, we wanted to spread a little joy by offering a range of ebooks for children and adults to enjoy for free. We're thankful to all our partner publishers and high street bookshops for making the Free Easter Reading campaign possible.
"We hope the campaign will help readers of all ages to discover new books, which they may then go on to purchase so they can treasure them forever. A special focus for this event is on illustrated books, including those in fixed layout ePub format, demonstrating that this option is feasible as a "peek inside" feature for bookshops and not the sole preserve of Apple and Kindle. We think that making illustrated books available for reading available online in this fashion will stimulate purchases of print copies both "for keeps" and as presents to give to others."
Readers can follow and engage with the Free Easter Reading campaign on social media via @jellybooks using the hashtag #FreeEasterReading.
Jellybooks will also be supporting the #SupportBookshops campaign on social media.
To find out more and view all the titles, visit www.jellybooks.com/easter-reading
All the ebooks will go live at 9am tomorrow (Tuesday 30th March) and remain available to read in full until 9am on Tuesday 6th April.
For further information or high res imagery, please contact Zoe Poulton or Truda Spruyt:
[email protected] | 07891 423 440
[email protected] | 07740 725 206
ENDS
About Jellybooks and its new DISCOVERY platform
Jellybooks was founded in January 2011 and has grown into the leading publishing technology specialist with a focus on reader analytics, audience insights and data-smart reading systems.
The Brixton, London-based company serves trade, academic and professional publishers in the UK, Germany, Europe, USA and elsewhere. Jellybooks has an active reading community that participates in test reading campaigns where publishers test books weeks or months prior to publication.
In 2018, Jellybooks launched the first browser-based ePub reading application based on the second generation Readium architecture. The Jellybooks Cloud Reader is available in ten languages including English, German, Dutch, French, Spanish, and Italian provides a one-click solution to access and read ebooks and audiobooks on almost any browser-enabled device from smartphone to tablet, laptop to Internet kiosk, smartwatch to PC.
Its new cross-industry cloud platform for book excerpts and audiobook snippets, Jellybooks DISCOVERY, gives retailers access to 'peek inside' functionality, supporting better book discovery and widening choice for consumers. DISCOVERY enable readers to access content from books, including illustrated books, with a call to action that takes them straight to the individual bookseller.
The Jellybooks DISCOVERY program is open to all UK and Irish retailers, as well as publishers, small and large.
To find out more about DISCOVERY for bookshops, visit www.jellybooks.com/about/bookshops/bookshops-peek-inside
To find out more about DISCOVERY for publishers, visit www.jellybooks.com/about/publishers/jellybooks-publishers-intro
About Innovate UK
The DISCOVERY project has been supported by the Sustainable Innovation Fund administered by Innovate UK.
Innovate UK drives productivity and economic growth by supporting businesses to develop and realise the potential of new ideas. We connect businesses to the partners, customers and investors that can help them turn ideas into commercially successful products and services and business growth. We fund business and research collaborations to accelerate innovation and drive business investment into R&D. Our support is available to businesses across all economic sectors, value chains and UK regions. Innovate UK is part of UK Research and Innovation.
About #HereForCulture
The DISCOVERY project has been supported by Arts Council England through the Cultural Recovery Fund.
Here for Culture is a movement that unites the public, government and cultural organisations in support of our fantastic cinemas, theatres, music venues, museums, galleries and heritage. Whether on the global stage or quietly in our own lives, culture inspires, uplifts, comforts and entertains us. Now, in these challenging times, it's our turn to provide a lifeline and show our support. The government is #HereForCulture with an unprecedented £1.57 billion of funding coming through on top of the furlough scheme, bounce-back loans and emergency grants. The public has been #HereForCulture as organisations have innovated online and outdoors.