Press Release
4th November 2020
UK bookshop chain Blackwell's and publishing technology specialist Jellybooks have received a major grant from Innovate UK, the UK's Innovation agency, to create a more exciting book discovery and shopping experience for readers across the UK.
At the core of the collaborative project is a new cross-industry platform for cloud-based book excerpts and audiobook snippets. This cloud-based platform will support virtual book browsing allowing readers instant access to between five and twenty percent of featured books. The preview functionality will be freely available to all booksellers in the UK and Ireland for integration into bookshop webpages, email newsletters and social media.
The platform will provide independent bookshops with digital discovery tools that rival and exceed Amazon's look-inside functionality. The objective is to provide independent book shops with best-in-class digital tools, supporting better book discovery and wider online retailing choice for consumers.
Every book excerpt and audiobook snippet will come with a bookshop-specific call-to-action prompting readers to purchase a digital or physical version of the book from the shop that provided the book sample. This can be a buy button to purchase online with either home delivery or to collect in store (click & collect). Independent bookshops can thus be confident that readers are directed to purchase books where they discovered and sampled them. Samples will also be customised for each book retailer to include opening hours, shop address, contact details, and more.
Bookstores without an online shopping or e-commerce capability can benefit from the online tools, too. They will be able to offer readers the option to sample and discover digitally, but then reserve their purchase for in-store collection. The buy button at the end of the sample is replaced by a "contact bookshop" button that sends an email to the bookshop with details of the book having been sampled by the reader automatically included and a request to reserve the book for later pick-up. This also provides indie bookshops with an option for other online interactions with readers.
The platform will also support QR codes. In recent months, QR codes have become a widely used, contactless interface in the UK whether it is checking into venues with the NHS Test and Trace app or ordering meals at a restaurant.
Book-specific QR codes will allow readers to sample books in-store without touching or opening the book physically. Bookshops can place QR codes on the book cover, use the codes in window displays or incorporate them into posters, flyers and publicity material. QR codes provide a contactless and easy way of transferring a sample to a phone or tablet. Scanning the code, readers have instant access to the book for immediate or later reading.
The user-facing features will be made possible by the Jellybooks Cloud Reader. This is an easy-to-use web app that also functions as a fully-fledged ebook reader supporting different font sizes, night and day mode, re-flowable pages, offline reading and much more. It is based on the open ePUB standard and was built leveraging the community-developed Readium II architecture. Using the Jellybooks Cloud Reader, readers can enjoy books in their web browser. Books open with a single click on a URL allowing for instant reading on smartphones, tablets and any connected device with an embedded web browser. With QR codes the book-specific link is generated by scanning the code with a smartphone.
The Jellybooks Cloud Reader supports not only narrative books such as novels, but also illustrated books and audiobooks. From children's books to thrillers, cook books to romance novels, Booker-winning novels to audiobooks on pop culture, all formats and genres are supported.
The cross-industry platform will be free to use for booksellers, large and small, and opens to readers in January 2021.
Later phases of the project will focus on developing machine-learning based approaches to generating book recommendations for readers. These algorithms will utilise actual reading data instead of simplistic click statistics. Another focus area will be a data-smart system for validating genre classifications (Thema codes) based on cluster analysis of how readers discover, sample, read and purchase books.
Kieron Smith, Digital Director at Blackwell's commented "We're excited to be a part of this project which we believe can add value for all UK booksellers, whether offering book preview on their websites or by using the QR code on their bookshelves or in their windows. This offers a fantastic way for customers to discover new titles. We are looking forward to launching it on Blackwells.co.uk as soon as we can."
Andrew Rhomberg, CEO of Jellybooks commented "We are thrilled to partner with Blackwell's and receive financial support from Innovate UK. With this initiative we are bringing new and innovative solutions to book sellers. Having worked with book publishers for many years, we are excited about joining up with booksellers across the country and helping them engage readers digitally in new ways that will sell books both in print and digital format, online, as well as on the high street. The current project is phase one of a larger project to provide data-smart and AI-powered book discovery and audience engagement tools that are open to anyone in the book sector without creating a walled garden."
Innovate UK Executive Chair Dr Ian Campbell commented: "In these difficult times we have seen the best of British business innovation. The pandemic is not just a health emergency but one that impacts society and the economy. Blackwell's and Jellybooks, along with every initiative Innovate UK has supported through this fund, is an important step forward in driving sustainable economic development. Each one is also helping to realise the ambitions of hard-working people."
Booksellers and publishers interested in joining the initiative can find more information and pre-register at http://jbks.de/pre-register.
The project is co-funded by Innovate UK, the UK's innovation agency. The award was made as part of round 1 of the Innovate UK Sustainable Innovation competition.
The cross-industry book discovery platform will support not only narrative books such as novels, but also illustrated books and audiobooks. Below are several examples: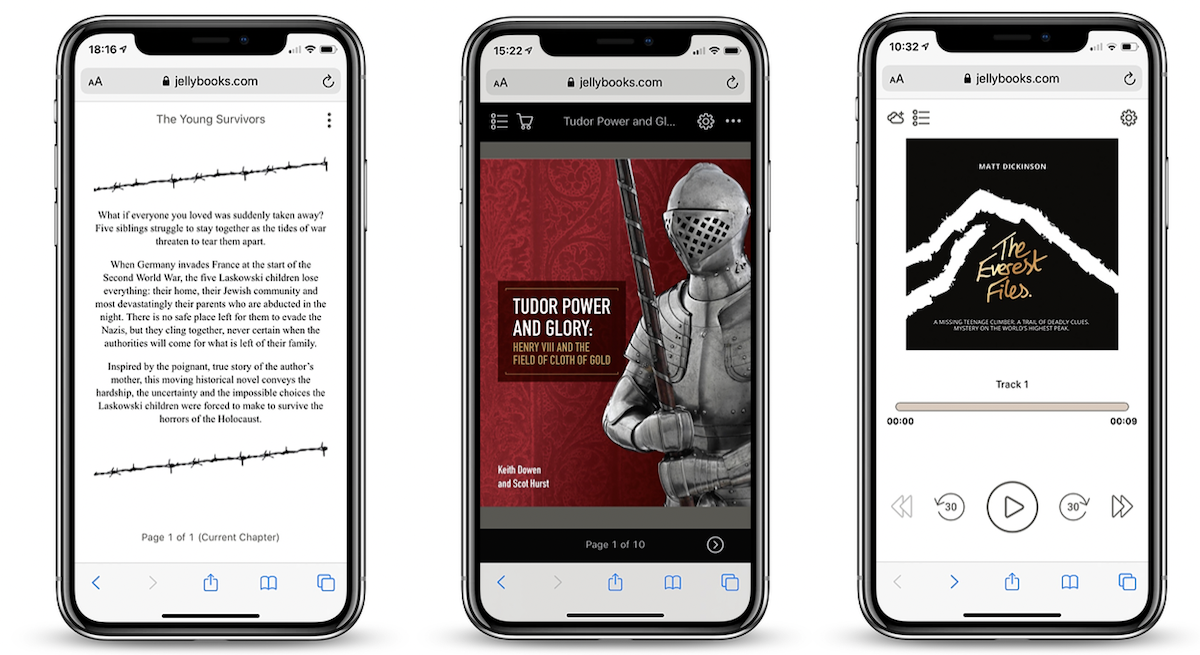 from left to right: excerpt from the novel "The Young Survivors" by London-based Duckworth Books, excerpt from the illustrated book "Tudor Power and Glory: Henry VIII and the Field of Cloth of Gold" by Leeds-based Royal Armouries Publishing and an audiobook snippet from "The Everest Files" by Sheffield-based Vertebrate Publishing – all displayed on a smartphone.

from left to right: excerpt from the illustrated book "The Body Image Book for Girls: Love Yourself and Grow Up Fearless" by Cambridge University Press and "How the Body Works" by DK – all shown in landscape mode on a tablet
Another major goal of the project is to make it easier for diverse and marginalised voices and writers to find an audience. Developing data-smart approaches for the purpose of identifying and reaching diverse audiences is one of the major objectives of the project during phase II.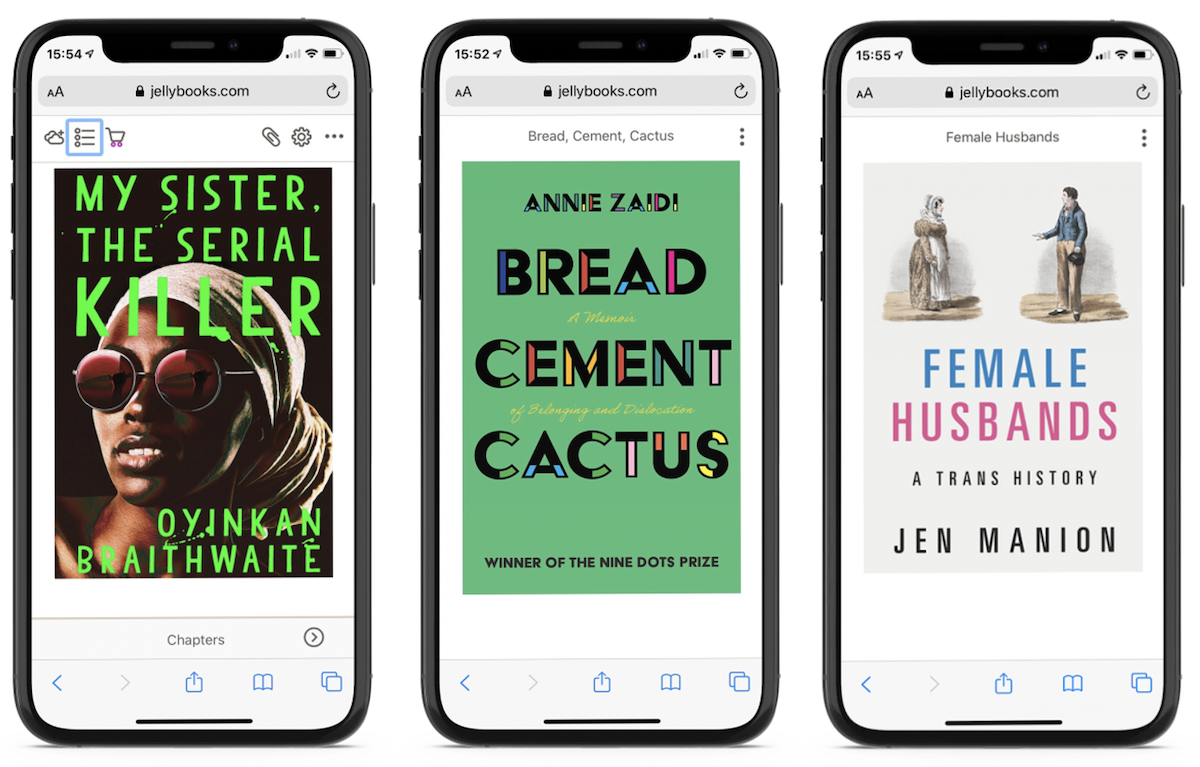 from left to right: excerpt from "My Sister the Serial, Killer" by Oyinkan Braithwaite (published by Atlantic Books), "Bread, Cement, Cactus: A Memoir of Belonging and Dislocation" by Annie Zaidi (published by Cambridge University Press) and "Female Husbands – a Trans History" by Jen Manion (also published by Cambridge University Press).
By making it easier and more convenient for readers to discover and shop locally, the platform will also help eliminate wasteful delivery packaging and reduce unnecessary deliveries that occur when books are shipped over long distances.
Improving accessibility is another major focus for the project. The Jellybooks Cloud Reader is already equipped to support visually impaired readers and readers with many accessibility requirements. As part of the project the partners will work on further improving and extending accessibility support.
More information for booksellers and publishers can be found at http://jbks.de/snippets_and_excerpts.
---
About Blackwell's
Blackwell's was founded on New Year's Day 1879, at 50 Broad Street, Oxford. From humble beginnings the company has built a worldwide reputation for unrivalled customer service, specialist knowledge and a passion for Bookselling. We continue to be a fiercely independent family-owned, values led business, where putting our customers first is at the very heart of what we do.
Our mission is to become the world's most trusted bookseller and to change lives through reading and books.
We have shops across the UK, including flagships in Oxford, Cambridge, London and Edinburgh, alongside academic, campus and other specialist shops. There are also a number of dedicated Business Centres serving the corporate market and private and public organisations.
Blackwells.co.uk continues to grow rapidly in the UK and internationally. The online platform is designed and managed in-house from a London development office and is a cornerstone of Blackwell's multi-channel strategy.
About Jellybooks
Jellybooks was founded in January 2011 and has evolved into the leading publishing technology specialist with a focus on reader analytics, audience insights and data-smart reading systems.
The Brixton, London-based company serves trade, academic and professional publishers in the UK, Germany, Europe, USA and elsewhere. Jellybooks has an active reading community that participates in test reading campaigns where publishers test books weeks or months prior to publication.
In 2018, Jellybooks launched the first browser-based ePub reading application based on the second generation Readium architecture. The Jellybooks Cloud Reader is available in ten languages including English, German, Dutch, French, Spanish, and Italian provides a one-click solution to access and read ebooks and audiobooks on almost any browser-enabled device from smartphone to tablet, laptop to Internet kiosk, smartwatch to PC.
About Innovate UK
Innovate UK drives productivity and economic growth by supporting businesses to develop and realise the potential of new ideas.
We connect businesses to the partners, customers and investors that can help them turn ideas into commercially successful products and services and business growth.
We fund business and research collaborations to accelerate innovation and drive business investment into R&D. Our support is available to businesses across all economic sectors, value chains and UK regions.
Innovate UK is part of UK Research and Innovation. Innovate UK drives productivity and eco-nomic.
Contacts
Jellybooks:
Contact: Andrew Rhomberg
Email: [email protected]
Phone: 0797-365-7891
Website: https://www.jellybooks.com
Blackwell's:
Contact: Kieron Smith
Email: [email protected]
Phone: +44 (0) 7552 278 472
Website: https://Blackwells.co.uk
Media Assets
Company logos, screenshots of the Jellybooks Cloud Reader and other resources can be found here: https://www.jellybooks.com/about/media/enquiries