Jellybooks DISCOVERY Launches with Blackwell Books
Browse one of the UK's favourite bookshop windows and thousands of other books without leaving home, thanks to a new partnership between Blackwell's and Jellybooks
Discover six new debut titles via the interactive window at Blackwell's Broad Street, Oxford using the new Jellybooks DISCOVERY platform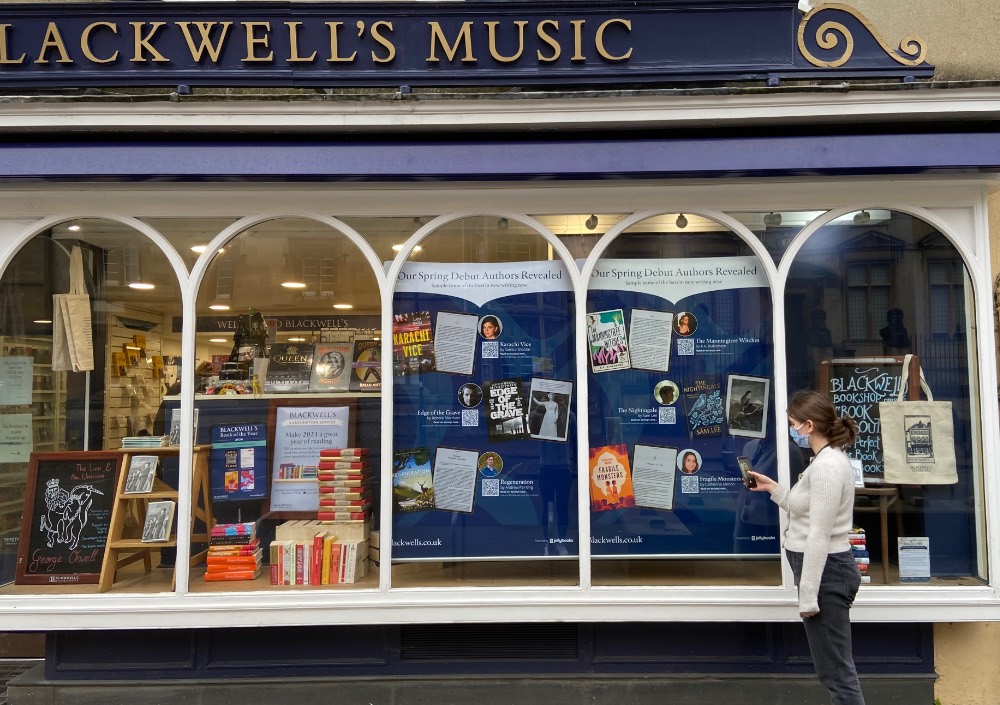 As we count down the days until we can browse our beloved bookshops in person again, technology specialist Jellybooks has partnered with Blackwell's to exclusively showcase six new debut titles, carefully curated by the expert Blackwell's booksellers. An interactive window display was unveiled today, Thursday 11 March, at Blackwell's flagship bookshop on Oxford's Broad Street.
Locals can scan the QR codes in the window display while on their daily walk to start reading the new titles with a single click. At the same time, readers based anywhere in the world can enjoy these first looks and thousands of other titles online, thanks to Jellybooks' new unique cloud platform for book excerpts and audiobook snippets, DISCOVERY.
DISCOVERY enables readers to 'peek inside' thousands of books on the websites of independent bookshops, including Blackwell's, similar to how readers can 'look inside' on Amazon. The key difference with DISCOVERY is that readers can then purchase the book they have previewed directly from an individual bookseller and every penny will go to that retailer.
Blackwell's booksellers have selected six new debut titles, in a nod to the new beginning that we are all looking forward to when lockdown restrictions start easing on 12 April and bookshops can reopen.
Here are the six exciting new books chosen by Blackwell's that are available to discover, along with thousands of other books, now:
Edge of the Grave by Robbie Morrison (Published by Macmillan on 4 March. Purchase now for £14.99)
'A 'razor-sharp' debut. Set in Glasgow's gangland underworld, this novel is chilling, brutal, and beautifully written. Robbie Morrison introduced me to a side of Glasgow I could never have imagined. I couldn't put it down!' (Elaine Stabler, bookseller)
Peek inside here: http://jbks.co/Edge-of-the-Grave-excerpt
Fragile Monsters by Catherine Menon (To be published by Penguin Viking on 8 April. Pre-order now for £14.99)
'The spectres of the past loom large in this powerful novel that leaves you in no doubt that your decisions and emotions will leave a legacy throughout the generations to come, no matter how hard you try to keep them a secret.' (David Kelly, bookseller)
Peek inside here: http://jbks.co/Fragile-Monsters-excerpt
Karachi Vice by Samira Shackle (Published by Granta Books on 4 February. Purchase now for £14.99)
'Samira Shackle's extraordinary portrait of Karachi is vivid and mesmerising reportage told through the lives of nine of its citizens. I was fascinated by this mega-city, three times the size of London where corruption and danger are endemic.' (Charlie Bush, bookseller)
Peek inside here: http://jbks.co/Karachi-Vice-excerpt
The Manningtree Witches by A.K. Blakemore (Published by Granta Books on 4 March. Purchase now for £12.99)
'Written with a sense of scabrous mischief and wicked wit, A.K. Blakemore's novel, set amidst the English witch trials, is an enjoyable and addictive story about deprivation, power, paranoia and infatuation'. (Zool Verjee, bookseller)
Peek inside here: http://jbks.co/The-Manningtree-Witches-excerpt
The Nightingale by Sam Lee (To be published by Century on 25 March. Pre-order now for £14.99)
'A wide-ranging and thorough study, The Nightingale succeeds in what any good non-fiction text should aspire to do: making interesting the minutiae of a previously unknown subject. Lee's enthusiasm for the natural world renders this journey through the natural and cultural history of the nightingale as compelling as it is informative. (Alice Carr, bookseller)
Peek inside here: http://jbks.co/The-Nightingale-excerpt
Regeneration by Andrew Painting (To be published by Birlinn on 18 March. Pre-order now for £20.00)
'Instantly immersive, Regeneration is an inspiring story of what can be achieved through collective action, and explores the careful balance required between humanity and nature for both to thrive.' (Zoe Chatfield, bookseller)
Peek inside here: http://jbks.co/Regeneration-excerpt
Readers can preview all six titles on the Blackwell's website here by clicking on the 'Book preview' tab' under each cover image.
Rebecca MacAlister, Area Manager based at the world-famous Blackwell's Bookshop in Oxford, says: "We're thrilled to be working with Jellybooks to bring our customers DISCOVERY. One of the special joys of bookselling is seeing a customer pick up a book, open it and become immersed in it, before taking it to the till. We can't get people back into the shop to recreate that moment yet, but this innovation means we can now offer a flavour of the content of a book through your screen, wherever you are in the world."
Andrew Rhomberg, CEO of Jellybooks, says: "Discovering new writers and books is one of life's greatest pleasures, and creating DISCOVERY has been a major ambition of ours. We're delighted that we can launch the platform with six fantastic debut titles that we know readers will be excited to find out more about, and we are so thankful to Blackwell's and our launch partner publishers for helping make this dream come true during lockdown.
"By offering the functionality to browse books on a phone, tablet or computer and then purchase them directly from a local bookshop, we hope that DISCOVERY will not only inspire readers but help booksellers recover after such a difficult time. We encourage every reader to visit the Blackwell's website today, browse all the great books on offer and use the opportunity for a peek inside to discover their next read."
Blackwell's and Jellybooks are partnering with the following publishers for the DISCOVERY launch: Barbican Press, Birlinn, Cambridge University Press, Comma Press, Granta, Hope Road Publishing, Impress Books, Pan Macmillan, Penguin Random House UK, Orphans Publishing and many other independent publishers.
Details of the six new debut titles are here https://blackwells.co.uk/bookshop/collection/Our-Spring-Debut-Authors-Revealed/-186913
Thousands more books from all the partner publishers will soon be available to view too.
Follow and engage with the launch on social media via @jellybooks and @blackwellbooks using the hashtags #bookDiscovery and #BlackwellsSpringDebuts
For further information on Jellybooks DISCOVERY and the launch, please contact Zoe Poulton, Hannah Davies or Truda Spruyt at Four Culture:
[email protected] | 07891 423 440
[email protected] | 07891 423 421
[email protected] | 07740 725 206
ENDS
About Jellybooks and its new DISCOVERY platform
Jellybooks was founded in January 2011 and has evolved into the leading publishing technology specialist with a focus on reader analytics, audience insights and data-smart reading systems.
The Brixton, London-based company serves trade, academic and professional publishers in the UK, Germany, Europe, USA and elsewhere. Jellybooks has an active reading community that participates in test reading campaigns where publishers test books weeks or months prior to publication.
In 2018, Jellybooks launched the first browser-based ePub reading application based on the second generation Readium architecture. The Jellybooks Cloud Reader is available in ten languages including English, German, Dutch, French, Spanish, and Italian provides a one-click solution to access and read ebooks and audiobooks on almost any browser-enabled device from smartphone to tablet, laptop to Internet kiosk, smartwatch to PC.
Its new cross-industry cloud platform for book excerpts and audiobook snippets, DISCOVERY, gives retailers access to 'peek inside' functionality, supporting better book discovery and widening choice for consumers. DISCOVERY enable readers to access content from books, including illustrated books, with a call to action that takes them straight to the individual bookseller.
The Jellybooks DISCOVERY program is open to all UK and Irish retailers, as well as publishers, small and large.
To find out more about DISCOVERY for bookshops, visit www.jellybooks.com/about/bookshops/bookshops-peek-inside
To find out more about DISCOVERY for publishers, visit www.jellybooks.com/about/publishers/jellybooks-publishers-intro
About Blackwell's
Blackwell's was founded on New Year's Day 1879, at 50 Broad Street, Oxford. From humble beginnings the company has built a worldwide reputation for unrivalled customer service, specialist knowledge and a passion for Bookselling. We continue to be a fiercely independent family-owned, values led business, where putting our customers first is at the very heart of what we do.
Our mission is to become the world's most trusted bookseller and to change lives through reading and books.
Blackwells.co.uk continues to grow rapidly in the UK and internationally. The online platform is designed and managed in-house and is a cornerstone of Blackwell's multi-channel strategy.
We have shops across the UK, including flagships in Oxford, Cambridge, London and Edinburgh, alongside academic, campus and other specialist shops. There are also a number of dedicated Business Centres serving the corporate market and private and public organisations.
About Innovate UK
The DISCOVERY project has been supported by the Sustainable Innovation Fund administered by Innovate UK.
Innovate UK drives productivity and economic growth by supporting businesses to develop and realise the potential of new ideas. We connect businesses to the partners, customers and investors that can help them turn ideas into commercially successful products and services and business growth. We fund business and research collaborations to accelerate innovation and drive business investment into R&D. Our support is available to businesses across all economic sectors, value chains and UK regions. Innovate UK is part of UK Research and Innovation.
About #HereForCulture
The DISCOVERY project has been supported by Arts Council England through the Cultural Recovery Fund.
Here for Culture is a movement that unites the public, government and cultural organisations in support of our fantastic cinemas, theatres, music venues, museums, galleries and heritage. Whether on the global stage or quietly in our own lives, culture inspires, uplifts, comforts and entertains us. Now, in these challenging times, it's our turn to provide a lifeline and show our support. The government is #HereForCulture with an unprecedented £1.57 billion of funding coming through on top of the furlough scheme, bounce-back loans and emergency grants. The public has been #HereForCulture as organisations have innovated online and outdoors.
Developed and supported with funding from Innovate UK and the Arts Council England.